Max Digiboard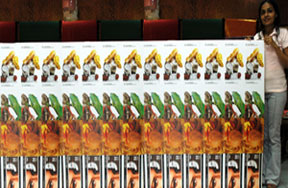 Max DigiBoard is a specialised board used by wide format digital printers for advertisements, indoor displays, danglers (point-of-purchase), fancy boxes and stationery products.

Max DigiBoard possesses excellent brightness and a specially crafted surface for optimum ink receptivity, giving breath-taking printing results.
Salient Features
Precise calliper thickness: ensures zero snarling of your print-head, not just from sheet to sheet within one lot, but also from lot to lot.
Eco- friendly: made from recycled cellulose, the board is itself recyclable and completely bio-degradable.
Rigid, high-strength, zero warp, lay-flat and dimensionally stable.
More of our specialty papers